---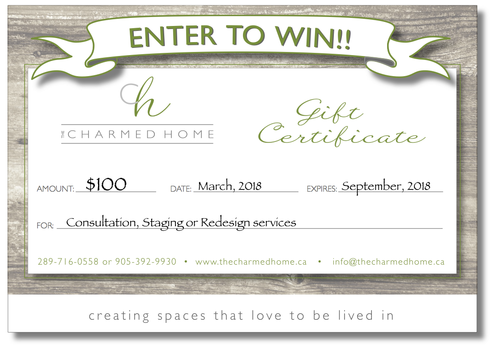 CONGRATULATIONS TO MICHELLE F, OF KESWICK ON!
You are the winner of the $100 Gift Certificate!!
Click on the
$100 GIFT CERTIFICATE GIVEAWAY
above to be entered into the draw. Simply put "Contest" as the subject line, and tell us how you would use the $100 Gift Certificate. Don't forget to include your name & address.
Gift Certificate can be used for consultation, staging or redesign services.
The winner will be notified by email. Contest closes March 31, 2018 and must reside within the GTA.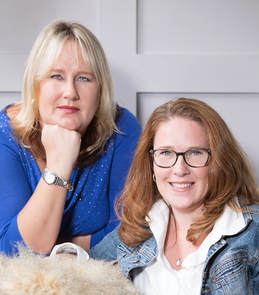 Hi, we're Jennifer Gourlie and Debbie Woloshyn, the founders of The Charmed Home - a professional home staging and redesign company in Georgina, Ontario. Our mission is to help homeowners realize the full potential of their home and property. Whether you're selling or staying, we create spaces that love to be lived in!
We definitely have a passion for "all things home" - whether it's styling spaces, repurposing furniture, creating and finding ways to decorate for less - we believe that no matter the size of home or the the budget - every space has the potential to be beautiful!
Serving York Region and surrounding areas including Keswick, Sutton/Jackson's Point, Pefferlaw, Newmarket, Aurora, Bradford, Holland Landing and Durham Region including Brock, and surrounding areas. Call us today for more information.
We can help you with:
Staging occupied and vacant homes for real estate - Giving your home's listing the WOW factor, to stand out above the rest!
Supplying rental furniture, art, soft furnishings, lighting and accessories - From couches and end tables to pillows & art, we have you covered!
Decluttering - We'll tell you the items that need to go to make your space enticing to buyers!
Creating curb appeal - The first thing that buyers see, we'll make sure you're making the right first impression!
Paint and colour - Whether you're selling or staying, we'll help you choose colours that work in your space, are appealing to buyers or will help you choose colours that you'll love for your new space!
Redesigning & Homestyling - We'll help you create a space that you'll love to live!
From start to finish, we have your best interest in mind. We are trained professionals who are passionate about what we do and why we are doing it!
The old adage that you only get one chance to make a first impression rings true for home sellers in today's competitive market. Many homeowners are wondering what they can do to help get their homes ready to sell. The 2006 Royal LePage House Staging Report found that sellers ought to do more than just look after required renovations before showing their home. In fact, décor improvements help make a strong impact on buyers and can ultimately affect a home's market value.
---
"Moderately priced home improvements, ranging from $80 - $2800, made in preparation for sale,
provided 349% return on investment. When sellers staged their homes they saw on average a %196 return on their investment." Home Gain survey of Real Estate Professionals.

Curb appeal matters! "93% of people decide to view a house after they have viewed photos online.
74% of those people will drive by before they contact an agent or seller."