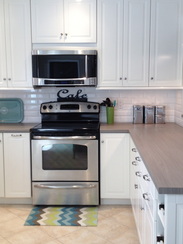 Let us help you maximize your home's appeal. At The Charmed Home, no job is too small in making your home look its best. Contact us for any of the following:

Seller's Consultation
Consultations are all about the condition of your home. We go through the property, room by room, as well as the exterior of the home to evaluate the cleanliness, and overall condition of the home. The consultation could be done months in advance from the actual time the property is listed. This gives you a chance to work on any recommendations that may require a bit more time. We will make recommendations throughout your home, and then advise which items should be cleaned, repaired or replaced. All our recommendations, are compiled in a full written report. Consultations typically take 2-2.5 hours to complete.

The cost of a consultation is $225.00 plus tax.

Staging & Showcasing
Staging is not about making the home look "decorated" but is about showing off your homes best features and how well each space in the home functions. Not only for showings, but for the photos as well. Using your own furniture and any decorative items you may have mixed with a few items from our inventory, we go in and set up each room, rearranging furniture, to create flow, showcase the homes selling features and clearly identify the function of each space. This ensures that when buyers walk through your home, the home's features stand out and the function of each room is clearly identifiable.

Showcasing a home is taking staging to the next level. This is where the home is showcased with furniture, art, accessories, and soft furnishings that give the home that extra wow factor. When buyers are searching the internet for listings, these are the homes that stand out!

Whether you decide on a consultation or whole home showcase, we have your best interest in mind. No matter what the budget, we put the same level of passion and care into every home we do. Our goal is the same as yours - getting your home SOLD for the most money possible!


STAGING & SHOWCASING PACKAGES:

The Charmed Staging Package:
- consultation with full written report
- staged using ONLY the homeowners existing furniture, art and accessories

The Charmed Showcase Package:
- consultation with full written report
- staged using the homeowners furniture, some art & accessories
- small pieces of furniture supplied by The Charmed Home (one month rental)
- art, accessories and soft furnishings supplied by The Charmed Home (one month rental)

The Charmed Home has in-house inventory for items such as lamps, accessories, art, mirrors, soft furnishings and small pieces of furniture such as end tables, occasional chairs, benches, and small dressers. For larger pieces such as couches, love seats, TV's etc items are rented from an outside Rental company.

Prices vary greatly from home to home, please contact us for a quote today!

Lifestyle Staging: We carefully evaluate your lifestyle and design choices. We rearrange your existing furniture to maximize space/function of your home to meet your lifestyle needs, so that your home truly reflects who you are.

---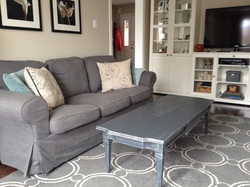 The following services are in addition, and can be added to your estimate or priced individually:

• Organizing & packing
We will pack away your personal items, to make your home organized and spacious.

• Colour consultation
We will suggest paint colours that will be attractive to a wide variety of potential home
buyers and if needed, we will refer you to trusted painters.

• Home updates
We will recommend any home improvements that will increase the value of your home and property, and refer you to the
necessary trades.

• Creating curb appeal
We will look at the exterior of your property and make recommendations that will enhance your home's curb appeal.

• Professional landscaping
We will make suggestions to make your landscaping a part of your home's overall appeal.

• Sourcing & shopping
Looking for items to go with you to your next home? Let The Charmed Home source furnishings and decorating items that will enhance your current home's function and flow, but will also be something to use in your new home as well.

• Seasonal decorating & prepping
Prepping your home and decorating for the holidays, freeing up your time to spend with family and friends.

---
A 2003 HomeGain Survey showed that sellers who spent $1,000 staging their home recovered almost 200% of the staging cost from the increased sale price of their home.

"Staged homes realized on average a 6.4% increase over the list price."
survey by Joy Valentine Coldwell Banker Broker on 2772 homes in 8 cities across Canada.