---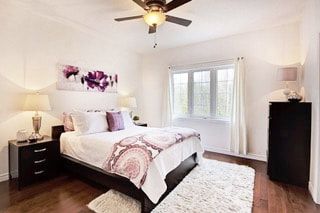 Deborah N., Keswick, ON
Thank you so much you guys for playing such a big part in the sale of our house in just 2 days. You guys are the best and you sure know how to make a house a charmed home !!!
Nicole Yule, Royal LePage Keswick, ON
The Charmed Home did a fabulous job staging a cottage listing I had recently. They made the existing wall colours work perfectly with the furnishings they brought in. It was empty, so they basically had carte Blanche to do as they pleased. When my client saw the place he even remarked at how great everything looked. I look forward to working with them again!

Sandy Simpson & Sue Booth, Royal LePage Keswick, ON
www.KeswickHomesForSale.com
Was a pleasure working with them. The property turned out amazing and their service was top notch. Would definitely refer them. Job well done!
Jeni M., Kettleby, ON
This team ROCKS it!!!
We had a very unique log home to stage and sell. I wasn't sure if we were going to get a stage that was too modern or one that was too country..I would think the house could give anyone a challenge. These lovely ladies chose the perfect mix of both country and modern to knock it out of the park!
I would highly recommend them to anyone looking for a efficient, well organized, creative, fun to work with team!
Thank you, once again!!!
Gary Semeniuk, Keller Williams Realty Centres, The York Region Eco Team Keswick, ON
www.yorkregionecoteam.com
Debbie and Jennifer took over our client staging requirements in 2016 and we couldn't be happier. They always up the staging game on every home they have staged for us. Each home has been staged in a very individualistic manner. They really pay attention to details and the staging always enhances and compliments the home.
Every home they have attended for us always feels just so much more warm and cozy, appealing to the eye.
They are the real deal. We frequently refer them to other realtors looking to take there clients homes to the next level.
Scott Leitch, Remax Realtron Realty Inc., Newmarket, ON
www.scottleitch.com
Very professional and hard working girls, nicely accented products, quick response and all calls answered. Home sold within days of staging.
Marilyn Almeida,
Caldwell Banker, Port Perry ON
www.marilynalmeida.com
These ladies are top notch! Not only are they professional and skilled at what they do, but a true pleasure to work with. I highly recommend them and trust them to stage my listings to the nines!
Krista LaChapelle,
Royal LePage Keswick, ON
www.kristalach.com
I have used the gals from Charmed Home to stage the majority of my listings, and they always make me look SO good!! Not only do they have fabulous taste, but they are also very professional and friendly and always make my clients feel comfortable with the process.
Trevor Comeau, Remax Allstars Realty Inc., Georgina, ON
www.meettrevor.com
I wanted to take the time to write this review because it's rare to find people that put their heart and soul into what they do! I hired The Charmed Home to stage a home I listed and I was blown away to observe their passion and desire to make sure they went above and beyond my expectations. I was very pleased with everything from start to finish and would highly recommend Debbie and Jennifer. On a side note, the property I am discussing above sold for much more than asking and I credit their efforts for such a success. Thanks again.
Christine F., Keswick, ON
After deciding to purchase a new home and making a firm offer, in the hope our current house would sell fast, we decided that we needed help getting our house in shape. After consulting with The Charmed Home, they helped us de-clutter, reorganize and simplify our house. They were quick, efficient and professional. They prepared our home for pictures and an open house and made it look fantastic! Our home sold quickly with lots of positive feedback from the viewers. I would highly recommend Debbie & Jennifer and their talent to stage your home!
Jackie K., Keswick, ON
I had contacted The Charmed Home to help with Christmas decorating/and seasonal curb appeal. They were friendly, easy to work with and prompt in replying to me. They gave me a few suggestions, used what I had on hand and added in their own unique touches. The results were beautiful, something that I had neither the time nor the energy to put together during the holiday season. Thank you to Deb and Jennifer for all your help!!
Elisabeth S., Georgina, ON - a grateful client
Getting a home ready to sell involves a certain amount of stress, but working with Jennifer and Debbie made the staging-to-sell phase a dream. These talented and hard-working women know what it takes to get a home market ready. The result was breathtaking - my home was more attractive than it had ever been and it sold for full price within the week. All this was achieved on a limited budget and in a tight time frame. Would I hire them again? Absolutely! Thank-you ladies, you made the whole process easy, and stress-free.
Suzanne T., Georgina, ON
I hired the ladies from Charmed Home to help me with an under-used room in my home. They helped me design the space, including picking the paint colours, choosing the right furniture for the area and the accents to tie it all together. It is now a bright cheery space with extra seating. The ladies also refinished some old, worn out furniture and made it fabulous and new again. I would highly recommend these ladies to design, declutter and spruce up your home. Thanks Debbie and Jennifer!
---
"Elements that impact 72% of the first impression inside the home are within control of the seller"
from a Proctor & Gamble survey

According to research done by the Certified Staging Professionals® the average buyer spends 3-6 minutes viewing a property.